I've commited to one month of no junk food with my sister again. We did 21 days at the beginning of the year and I felt great. Basically, we are avoiding candy, sweets, chips, soda, fast food, and things like that. Honestly, I think it looks a little different for each of us....but we are avoiding the same kinds of foods and holding each other accountable. The biggest problem for me...I LOVE (I mean L.O.V.E.) chocolate and my afternoon snack. Apart from those 2 things I just have to be aware of what I'm putting in my mouth and not eat mindlessly (or let my dear friend bring me sweet tea when we meet for a play date with the kids-you know who you are and don't tempt me with the offer).

So we tried some new recipes here in my house today. Both I found via pinterest (hello? is anyone really surprised?) And both were successes.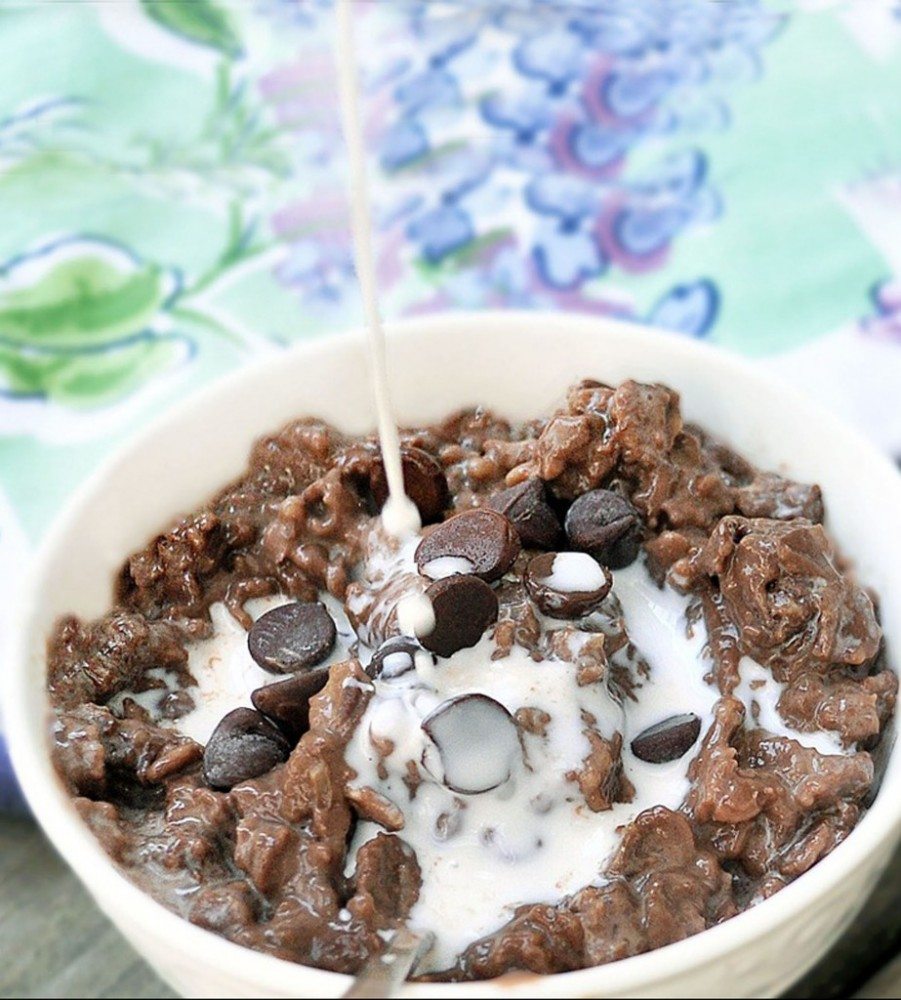 We skipped the choc chips on top with no ill effects.
photo is from the blog Chocolate Covered Katie.
Oatmeal is a staple in our home. We eat it virtually every morning in one form or another. I have not always been a lover of oatmeal. Actually for the longest time I hated it. But since my kids eat it almost every day (by request) I have found myself eating it more often....and with the right additions I am finding that I like it. And I like staying full all morning. Of course, an
oatmeal recipe
found at a blog called Chocolate Covered Katie has to be good. And it was...very good and very filling! We tried the 5 minute Chocolate Oatmeal. It is sweetened with a banana (no joke!). Since I had to multiply the recipe by 5, I didn't have quite enough bananas so I had to add a little sugar but it was most definitely a winner! There is also a banana free version for you crazies who don't like them! :)
Side note: this is perfect with those bananas that are getting too ripe...when you get a bunch of bananas that are past their prime, peel them and throw them in a freezer bag in the freezer...save them for chocolate oatmeal or other baking recipes or smoothies. If you don't peel them before freezing the peel will turn black...the banana is still fine and you can get the peel off with a paring knife. Of course, I have to buy extra bananas and hope they last long enough to do this with them.
Anyway, with recipes like Cinnamon Roll Baked Oatmeal, Sugar Cookie Oatmeal, Reese's Peanut Butter Cup Baked Oatmeal, Blueberry Muffin in a Bowl, Pumpkin Pie Oatmeal, and Chocolate Mudslide Oatmeal (be still my heart that sounds good!)....I'll be back to visit her blog. And I'll be able to get a chocolate fix without eating a candy bar (or a handful of chocolate chips from the bag-whatever!) Cause who says oatmeal is only for breakfast anyway?
picture and recipe from the website Win, Lose, or Blog. linked below
For our afternoon snack, I wanted to try something else new. I found
this
recipe for microwaved apple slices that we tried. There is no added sugar....just sprinkle on some cinnamon after its done. We subbed a LITTLE nutmeg today because I ran out of cinnamon and won't have any till Friday and it was a hit. The apples are tender and juicy (and HOT!). The blog where I found it says it is like the inside of apple pie. I would not go that far but it is really good and is a nice change up from a plain sliced apple or a apple dipped in peanut butter. Two other staples in this house. (I think this would also be good with a nice juicy pear.)This recipe is another winner!
So I'm feeling like no junk food isn't going to be so hard after all. Both of these are healthy and yummy and satisfied the craving or the munchies just fine. Both are mom and kid tested AND approved! I'll be back with more recipes as I try them! :)